Perhaps the responsible BMJ editorial position is to let readers know about the thorough investigation by IASP, and its finding that: "IASP does not currently endorse general use of cannabis and cannabinoids for pain relief". [4]
The BMJ systematic review of cannabinoids for cancer and chronic non-cancer pain [3] starts with the premise that a new systematic review is needed because limitations of analytical approaches and interpretation of findings produced conflicting results previously. It oddly does not point out that an overview of 57 previous self-declared systematic reviews investigated just this point in substantial detail [4; posted online in May 2020]: reviews with industry links are typically of low quality and quite positive about effects of cannabinoids for pain, while Cochrane reviews tend to be much more conservative.
Simon Haroutounian
Associate Professor and Chief of Clinical Pain Research in the Department of Anesthesiology, Washington University School of Medicine, St. Louis, MO, USA.
COI: In the past 36 months Simon Haroutounian has received research funding from the US National Institutes of Health, US Department of Defense, and Disarm Therapeutics. SH has received personal fees from Vertex Pharmaceuticals, Medoc Ltd, and Rafa Laboratories.
Emma Fisher
Department for Health Centre for Pain Research, University of Bath, Bath, United Kingdom.
COI: E fisher reports grants from vs Arthritis and NIHR outside the submitted work.
Andrew Moore
Retired researcher into (inter alia) pain and evidence
Plymouth, United Kingdom.
COI: personal payment for advice to Biogen Inc on design of future neuropathic pain trials
It was disappointing that the Wang review omitted any discussion of the many differences with the systematic review produced by IASP. It is a disservice to readers and people living with pain that authors, peer-reviewers, and editors did not address the major differences in conclusions between the BMJ and IASP approaches.
Christopher Eccleston
Professor, Department for Health Centre for Pain Research, University of Bath, Bath, United Kingdom; Cochrane Pain, Palliative, and Supportive Care Review Groups, Oxford University Hospitals, Oxford, United Kingdom; Department of Clinical and Health Psychology, Ghent University, Ghent, Belgium.
COI: C. Eccleston reports grants from vs Arthritis, MayDay Foundation, Cochrane, and NIHR outside the submitted work.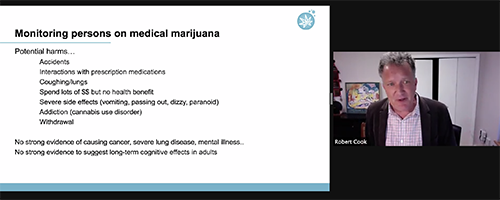 Dr. Wang also provided an overview of recent medical marijuana research along with findings from a pilot study focused on older adults with chronic pain newly initiating medical marijuana use.
On Tuesday, February 23, 2021, Dr. Robert Cook and Dr. Yan Wang presented for the Integrative Pain Management Series for Health Care Providers on medical marijuana and its effects on chronic pain and related health outcomes.
Health care providers learn how to help patients incorporate non-medication therapies into their pain management plan, including aromatherapy, dry needling, meditation, virtual reality and more, with the goal of increasing patient safety and quality of life.
Learning Objectives from the Presentation:
The Integrative Pain Management Series for Health Care Providers, hosted by the Aging and Integrative Pain Assessment and Management Initiative (AI-PAMI), specifically addresses pain management issues unique to the aging population, such as cognitive impairment, falls, medication side effects and polypharmacy.
The presentation, Understanding Medical Marijuana and its Potential Benefits and Harms in Older Adults Living with Pain, focused on fostering understanding about various medical marijuana products in the state of Florida and its application for pain management within the older adult patient population.
AI-PAMI is a comprehensive project addressing non-opioid pain management in adults ages 50 and older living in Northeast Florida. The overall goal of AI-PAMI is the advancement of innovative pain education and patient care focused on multimodal and integrative pain management. The project encompasses community outreach, education and research.