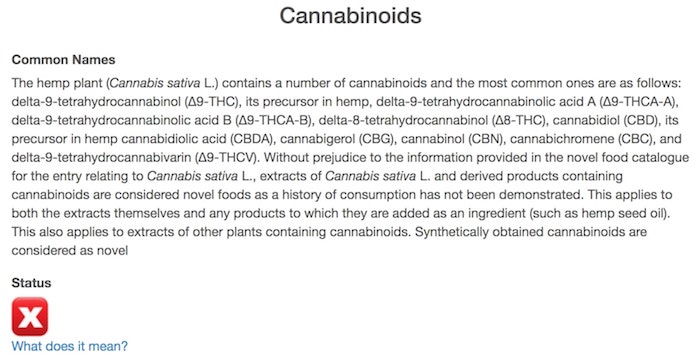 "There is a process in progress in the EU to determine whether other parts of the hemp plant (eg, leaves or flowers) and extracts of the plant have been legally marketed in the Community before May 15, 1997. Then Novel Food Catalog will be updated and clarified with respect to to which parts of the hemp plant are not considered covered by the novel food rules."
Authorities in EU member states now regard food, drink and food supplements with CBD as a "novel food". A key regulation of novel foods is premarket authorisation which means any manufacturer intending to put CBD into food are required to apply to the European Commission via an online application.
"Novel Food is defined as food that had not been consumed to a significant degree by humans in the EU before 15 May 1997, when the first Regulation on novel food came into force."
What does this mean?
Like with many rules for CBD there is some confusion. Claims of legality of CBD flower and bud made by retailers are commonly based on the fact that they have been sourced from 'EU approved varieties' and contain 'less than 0.2% THC'.
CBD is legal in the UK. But the picture is more complicated than that – here, we look at all the UK laws and regulations surrounding this remarkable compound.
To understand CBD regulation in the UK we need to take a closer look at CBD – or cannabidiol – and its origins. The CBD in CBD oils on the UK market mainly comes from either 'Industrial hemp' – also known by its Latin name Cannabis sativa – or other strains of the Cannabis plant.
CBD as a Novel Food
"The hemp plant (Cannabis sativa L.) contains a number of cannabinoids and the most common ones are as follows: delta-9-tetrahydrocannabinol (Δ9-THC), its precursor in hemp, delta-9-tetrahydrocannabinolic acid A (Δ9-THCA-A), delta-9-tetrahydrocannabinolic acid B (Δ9-THCA-B), delta-8-tetrahydrocannabinol (Δ8-THC), cannabidiol (CBD), its precursor in hemp cannabidiolic acid (CBDA), cannabigerol (CBG), cannabinol (CBN), cannabichromene (CBC), and delta-9-tetrahydrocannabivarin (Δ9-THCV). Without prejudice to the information provided in the novel food catalogue for the entry relating to Cannabis sativa L., extracts of Cannabis sativa L. and derived products containing cannabinoids are considered novel foods as a history of consumption has not been demonstrated. This applies to both the extracts themselves and any products to which they are added as an ingredient (such as hemp seed oil). This also applies to extracts of other plants containing cannabinoids. Synthetically obtained cannabinoids are considered as novel"
Are you a CBD business? Build brand awareness and get higher in internet search rankings by joining our CBD directory here
(c) seed of any such plant;]
3) it contains no more than one milligram per component part of the product.
However, if you are interested in purchasing CBD flowers off the internet regardless then it's important to know a few helpful things. Dry herb vaporizers are legal to buy and they are a way to inhale your dry herb without needing tobacco or needing to burn anything. A dry herb vaporizer creates vapour at a lower temperature, rather than smoke at a higher temperature, which makes it a much healthier option to smoking. It might just be the perfect way to inhale your CBD flowers.
Benefits of CBD
First things first, let's define the terms CBD and THC because they are going to be coming up a lot in our discussion of CBD flowers.
However, if that's a risk you aren't willing to take, then why not try other CBD-based products. CBD hemp gummies, for example, are legal and are easy to buy. There are lots of benefits of CBD gummies , they have much the same effects as CBD flowers. Also, for physical ailments, why not try CBD hemp pain relief cream .
Are CBD Flowers Legal in the UK?
Alternatively, CBD does not have psychoactive effects. If anything, it has calming tendencies. CBD is used mostly in wellness products, which focus on healing, anti-inflammation and helping with anxiety and sleep deprivation.
What are the benefits of CBD? Well, despite the research into CBD being slightly controversial, here is a list of the main health benefits of CBD. Many people use CBD everyday to help both physical and mental illnesses.