Georgia consumers can purchase hemp-derived CBD products from CBD-specific stores and health shops. While cafes and grocers may stock foods or beverages infused with CBD, the sale of these are prohibited by Georgia law.
Possession with intent to distribute is punishable by the same penalty tiers as the sale of illicit CBD or cannabis.
Georgia has had a restricted medical marijuana program in place since 2015. Qualifying patients can access CBD-rich cannabis oil that contains 5% THC or less. Adult-use cannabis remains illegal. Several municipalities in Georgia have effectively decriminalized the possession of small quantities of cannabis.
Most raw cannabis strains on the market today contain small amounts of CBD, especially compared with THC. But since the cannabinoid has gained considerable attention for its wide range of purported therapeutic benefits, more high-CBD strains have recently been cultivated.
Where to buy CBD in Georgia
CBD products are legal in Georgia, with the exception of CBD in foods, beverages, animal feed, or dietary supplements. The Georgia Hemp Farming Act, HB 213, which passed in May 2019, formally legalized the commerce of CBD products that conform with federal law requirements and contain 0.3% THC or less.
Georgia residents can also buy hemp-derived CBD online, usually through specific brands' websites. You can also find verified CBD brands on Weedmaps. Reputable brands will generally provide you with essential product details, including the form of the CBD (such as oil, capsules, topicals, tinctures, etc.), the quantity of CBD the product contains, the other chemicals or ingredients present in the product, and more.
When purchasing from a storefront, particularly if the store specializes in CBD, you can receive guidance from an employee. Explain what you're looking for, your reasons for consuming CBD, and they can point you in the right direction.
Georgia CBD possession limits
The 2018 Farm Bill re-classified hemp as an agricultural commodity and made its cultivation federally legal. Further, the act removed some forms of cannabis from Schedule 1 status by creating a legal distinction between hemp and marijuana. Hemp is cannabis with less than 0.3% THC, and marijuana refers to cannabis with more than 0.3% THC. This distinction in federal law effectively legalized CBD that is derived from cannabis with less than 0.3% THC, as long as it has been cultivated according to federal and state regulations.
The 2018 Farm Bill shifted the oversight of hemp and hemp-derived products from the U.S. Department of Justice (DOJ) to the U.S. Food and Drug Administration (FDA). The FDA does not presently allow CBD-infused food, drinks, or dietary supplements to be sold, and hasn't yet provided regulations for hemp-derived CBD products.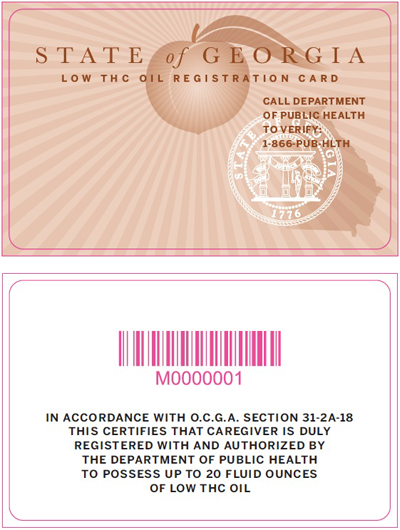 Georgia's law is much more limited than some other states' medical marijuana laws. For example, it does not legalize the sale or possession of marijuana in leaf form. It does not authorize the production or sale of food products infused with low THC oil or the ingestion of low THC oil through vapor. It does not authorize physicians to prescribe marijuana for medical use. It is intended solely to protect qualified persons from criminal prosecution for possessing low THC oil for medicinal purposes.
To be considered valid, the back of the card should be white and contain a bar code, number and the following language: "IN ACCORDANCE WITH O.C.G.A. SECTION 31-2A-18 THIS CERTIFIES THAT CAREGIVER IS DULY REGISTERED WITH AND AUTHORIZED BY THE DEPARTMENT OF PUBLIC HEALTH TO POSSESS UP TO 20 FLUID OUNCES OF LOW THC OIL"
There are three categories of persons who may apply for the card: