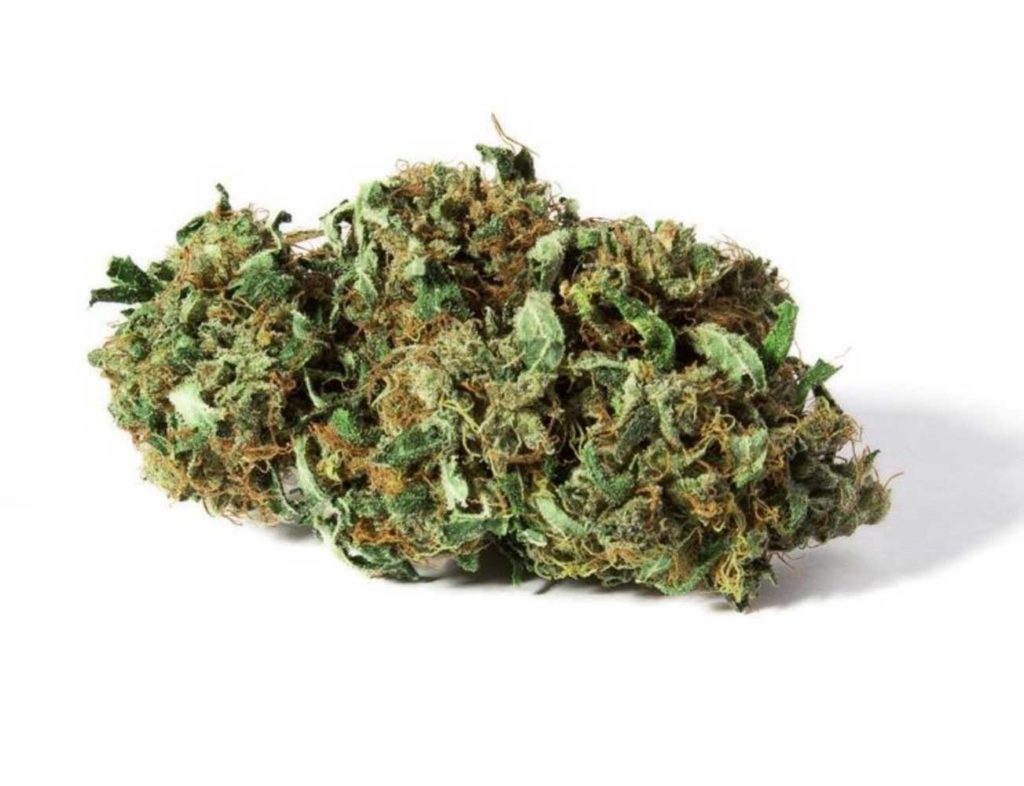 Taking its lead from the fragrance, the taste of the Cherry Wine opens step by step and pleases your senses at every stage. You'll feel berries, citrus fruits and chocolate in your mouth, with hoppy and elderberry afterbites and hints of rose flowers.
The buds are from very small to medium, mostly green, but with red, golden, amber, or peach-colored veins of tendrils and pistils. Fluffy buds are blanketed with the translucent yellow, green, and red coat of hairs. They look like covered with the silver thaw due to the tiny crystals that sparkle all over the Cherry Wine hemp flowers.
Two companies claim to be the breeders of Cherry Wine hemp. The website of Tree Of Life Seeds says that they are the official trademark owners of Cherry Wine, according to them this cannabis strain comes from Arkansas. At the same time, another company from Colorado, High Grade Hemp Seed Co, tells its own Cherry Wine CBD story — it was cultivated by Bodhi Urban, the founder, in 2015.
Cherry Wine Taste
You'll find next to zero seeds in the Cherry Wine buds, which makes it more attractive for those who like to use maximum of the hemp weight. Nugs are moderately thick, easy to break up with fingers. Multiple crystals are sticky and oily. when holding the nug in your hand, your first impression will be gluey and malleable.
Cherry Wine does not produce any psychoactive effects, thus you keep clarity of mind with full body relaxation. You don't get high, staying focused and mentally active.
Common indications of the Cherry Wine medical weed include:
Cherry Wine CBD Aroma
Cherry Wine CBD pot is definitely named after its unique smell. The first and the strongest fragrance you feel is sweet brandied cherries. This enticing scent will make you want to make another whiff, and then you'll hear the notes of cheese, pepper, fresh grass, and pine.
Cherry Wine review would be incomplete without the appearance description. The plant is rather tall with abundantly springing flowers. The flowers of Cherry Wine strain are very beautiful and have unique outlook. They yield many nugs that are different in size and color.
$ 30.00 – $ 105.00 Please call 970-260-0552 to place an order. We are having issues with our credit card service.
What makes our Cherry Wine hemp flower the best smokable?
At Zenzen Organics it starts with our ethical approach to farming and land stewardship. A shocking amount of plastic row cover is used to farm CBD hemp, we don't use it. Instead we tend the soil with cover-crops and all organic hemp farming practices. Our operation is small so we can stay focused on quality. Everything is done on the farm. We encourage people to visit us, to see and feel the difference.
What are the benefits of smoking hemp flower?
We send it to you ready to enjoy.