"This study is essentially showing how CBD might work, and which effects might underlie symptoms of psychosis," he says. "But we seldom treat psychosis giving single doses; we have to give doses for various weeks before seeing clinical, meaningful results."
The study was published Wednesday in Psychological Medicine.
Those with psychosis were already on standard antipsychotic treatment at the start of the study, and they continued on the treatment throughout the study. After taking scans of their brains to establish baseline activity, the researchers then gave each participant a placebo drug and then 600 mg of CBD, and rescanned their brains.
Ultimately, the study sample is too small to draw definite conclusions on CBD as a treatment for psychosis patients as a group. The study also doesn't look at how brain activity changes matched up to behavior in the participants with psychosis — which means we can't know if CBD improved their performance on the memory tasks.
CBD and brain activity
The single dose of CBD appeared to diminish the differences in activity in the brains with psychosis and those without. For example, during memory exercises like recalling something verbally, a brain affected by psychosis has abnormal activity such as greater connectivity in the front of the brain (prefrontal, mediotemporal and striatal areas), which makes it harder to recall things logically. But after taking even just a single dose of CBD activation in these areas tended to look similar to that of a person without the condition.
The results suggest that CBD could offer a treatment for the memory problems associated with psychosis, a common mental-health condition that affects 20 million people worldwide, according to the World Health Organization.
The results build on a 2018 study from the same team suggesting that CBD can normalize brain activity in people with symptoms of psychosis. This new study takes the work forward by including people with a clear diagnosis.
Can CBD treat psychosis?
These results add to a growing body of research into the ways CBD may offer a treatment for different psychiatric conditions. The need is great: Current gold-standard treatments tend to work only in a subset of people and can have serious side effects when taken over the long term. CBD may be easier for the body to process, making it a more tolerable long-term option for people with chronic mental health conditions, Bhattacharyya says.
The study included a group of 13 people with a diagnosis of psychosis and 16 people without the disorder. The participants were asked to perform three different verbal-association memory tasks (such as deciding whether words were paired in a logical way, and recalling which words they'd previously seen paired, or what font they were in) while in an fMRI machine.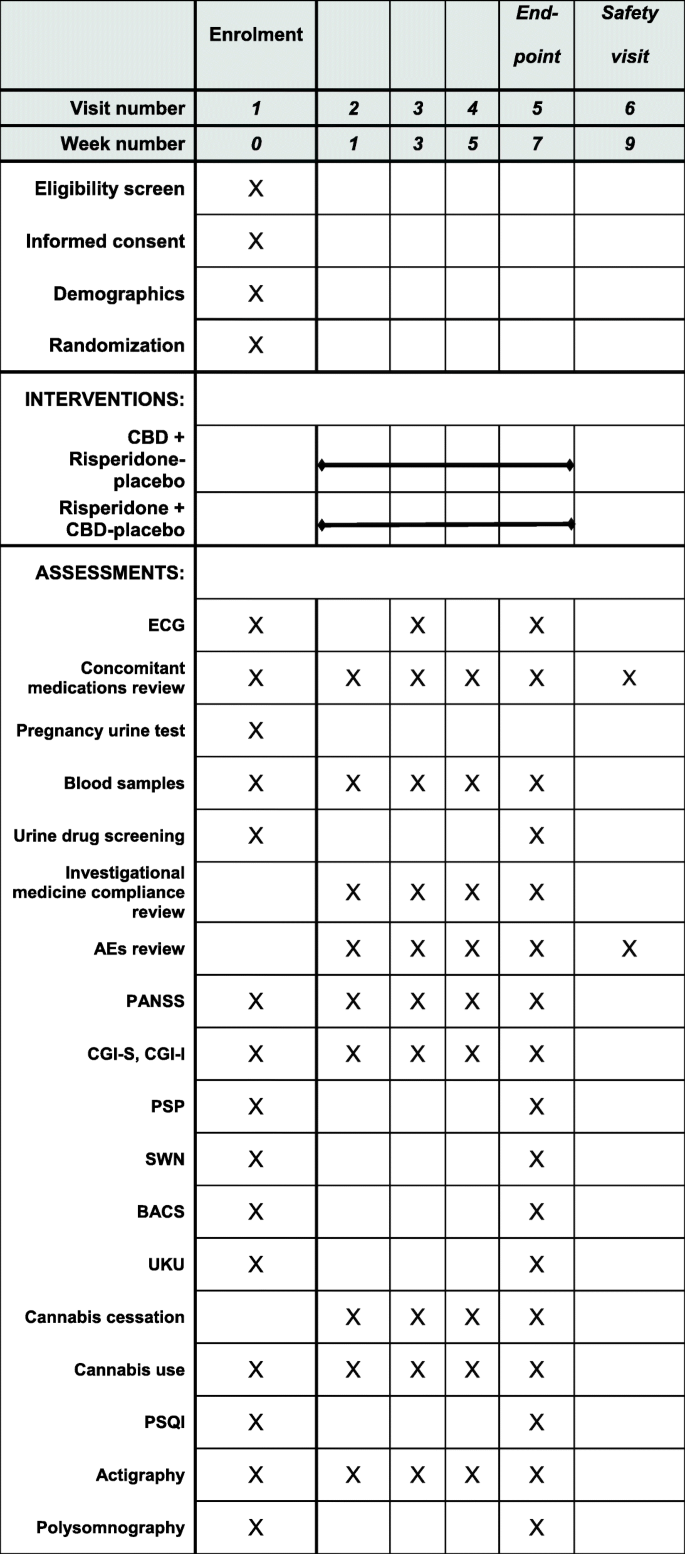 Patel R, Wilson R, Jackson R, Ball M, Shetty H, Broadbent M, et al. Association of cannabis use with hospital admission and antipsychotic treatment failure in first episode psychosis: an observational study. BMJ Open. 2016;6(3):e009888. https://doi.org/10.1136/bmjopen-2015-009888.
Data on adverse events are collected at every visit, and by telephone in the weeks between. Patients can reach the researchers at any time in case of spontaneously occurring adverse events.
Serious Adverse Event
ICD-10 diagnosis of schizophrenia (DF20.X), paranoid psychosis (DF22.X), acute/intermittent psychotic disorder (DF23.X), schizoaffective psychosis (DF25.X), other/not specified non-organic psychotic disorder (DF28/DF29), or cannabis induced psychotic disorder (DF12.5)
Sample size estimation
Chemerinski E, Ho BC, Flaum M, Arndt S, Fleming F, Andreasen NC. Insomnia as a predictor for symptom worsening following antipsychotic withdrawal in schizophrenia. Compr Psychiatry. 2002;43(5):393–6. https://doi.org/10.1053/comp.2002.34627.
Symptomatic remission is defined according to the Andreasen et al. remission criteria [35]. The criteria define symptomatic remission as a rating of no more than mild in four core positive and four core negative symptoms on the PANSS (P1: Delusions, P2: Conceptual disorganization, P3: Hallucinatory behaviour, N1: Blunted affect, N4: Passive/apathetic social withdrawal, N6: Lack of spontaneity and flow of conversation, G5: Mannerisms and posturing, G9: Unusual thought content) that is sustained for ≥6 months [35]. Because of the duration of this study, the requirement of 6 months duration will not be considered.
We consider a relative difference between cannabis cessation proportion in the two intervention groups of 0,50 (i.e. risk ratio for cannabis cessation at follow-up in risperidone group vs. CBD group = 0,5) as a relevant clinical difference. This yields a sample size of 50 patients in each group with a two-tailed 5% significance level and 80% power. Subjects will be randomized in a 1:1 ratio to each intervention group.
Criteria for discontinuation
RedCap is a web-based and secure database, with real-time entry validation and audit trails. Some clinical data will be entered directly into the eCRF in a RedCap database designed specifically for this study. Other clinical data will initially be registered on paper and then entered manually into the RedCap database. The entered data will be checked by a second person to avoid errors. Study medication will be logged and documented.
Psychosocial functioning is assessed using the Personal and Social Performance Scale (PSP) [37]. The PSP is a 100 points single-item clinician-rated scale, divided into four domains: socially useful activities, personal and social relationships, self-care, and disturbing and aggressive behaviours. It has a maximum of 100 points, divided into 10 equal intervals (< 30 = intensive support or supervision needed, 31–70 = disabilities of various degrees, 71–90 = mild difficulties, 91–100 = more than adequate functioning).
Go to
Participants will be randomly assigned in a 1:1 ratio to receive CBD or matching Placebo as an add-on to antipsychotic medication in an 8 week double blind trial. In this study, Cannabidiol Oral Solution (CBD) product will be used. This product is manufactured and supplied by GW Pharmaceuticals. The formulation is a 100 mg/mL solution. The CBD compound will be dosed at 1000mg/day administered in two divided doses. The dose of CBD was selected based on previous controlled trials that demonstrate the efficacy of CBD in patients with schizophrenia.
Go to