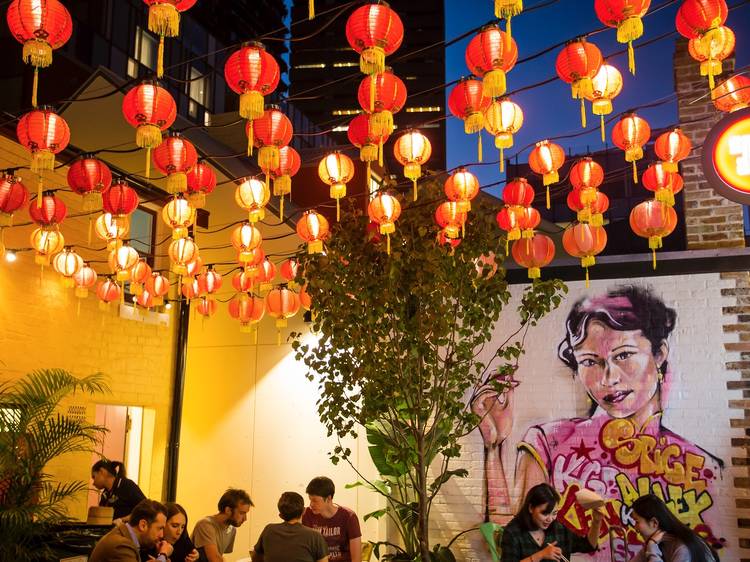 Despite appearances, Watsons Bay Boutique Hotel isn't exclusively the domain of the high-flying Eastern Suburbs boomer generation – it's also a lovely spot to sit down for a casual lunch, drink in hand, brimmed hat at the ready. Grab a crisp serve of fish and chips with a zingy tartare sauce, or settle in for a Bloody Mary if it's that kind of afternoon.
Get into a relationship with our newsletter. Discover the best of the city, first.
After ten years of silver service at Ormeggio, chef Alessandro Pavoni decided to change the game. Ormeggio at the Spit is now a seafood restaurant. The new direction is inspired by Pavoni's affection for the culinary style of the Southern Italian region of Puglia (the heel of the boot). While its outdoor areas are relatively small, the glass-box walls of the dining room fully retract so you can marvel at those jaw-dropping harbour views while you eat.
Spice Alley
You don't need to spend oodles to eat out in the fresh air – just take a look at Mary's latest outpost above the Lansdowne. Those famously juicy cheeseburgers and their super savoury vegan counterparts can now be consumed in the bright light of a sunny afternoon on the roof of the Chippendale live music establishment.
Beauty and convenience don't always go hand in hand, but Opera Bar is a glam exception to the rule. With its menu highlighting local produce, and packed to the brim with sashimi, oysters and cocktails galore, it's perfect for a pre-show snack. You might be jostling for space with other harbourside punters, but it's worth it for when you nab that primo spot on the promenade.
Yearning for some blue in your view? These are the best waterfront bars in Sydney.
Coogee Pavilion
With the kind of weather Sydney's ordinarily blessed with for about 11 months of the year, it's a wonder our restaurants had roofs to begin with. There's a certain quintessential Sydney-ness about sipping a drink in the breeze of a balmy evening or taking your first bite of dinner knowing you're free from the curse of unflattering overhead lighting. This city (and its gorgeous climate) is made for outdoor dining, and we've rounded up some of the best places around town that you can take full advantage of our local yen for alfresco living.
Out here in the sunny, white courtyard, beneath the skinny branches of olive trees, Bondi's well-heeled gather for long lunches and Instgrams of that puffy flatbread – and you can join them. Pick out a bunch of small, share plates – ripe, sweet tomatoes, creamy, languid burrata, and the walnut panagratto should be enough to start you off (and keep you coming back for future visits).
This fifth-floor gem in Russell Street is almost an old-fave by Melbourne standards. But QT is keeping it fresh with a secret garden pop-up for summer. Visit for a curated selection of wines, and stop to admire the stunning street art mural by Aussie artist Rowena Martinich.
Melbourne Street Eatz food truck park
We've got every FOMO-worthy Melbourne event and experience in one place.
The best new bars in Melbourne
This glittering summer pop-up is back with a fresh new sustainable look. Think eco-friendly paints, worm farm composting, garnishes grown on site and bike-powered phone chargers. Take a seat riverside and dine on foodie delights from Nobu and Gradi, then kick on with cocktails, lawn games and more.