This factsheet is intended to be used by existing licensees and prospective licensees who may need to apply for a licence. They should have fully assessed any proposals they may wish to make in the context of this guidance and that provided by other regulators.
This factsheet outlines the domestic control measures that apply to cannabis, cannabidiol (CBD) and controlled cannabinoids.
This file may not be suitable for users of assistive technology.
Request an accessible format.
Drug licensing factsheet: cannabis, CBD and other cannabinoids
This is intended as general guidance only; it is not legal advice. Anyone in doubt should seek their own independent legal advice to ensure they are compliant with any relevant legislation.
Documents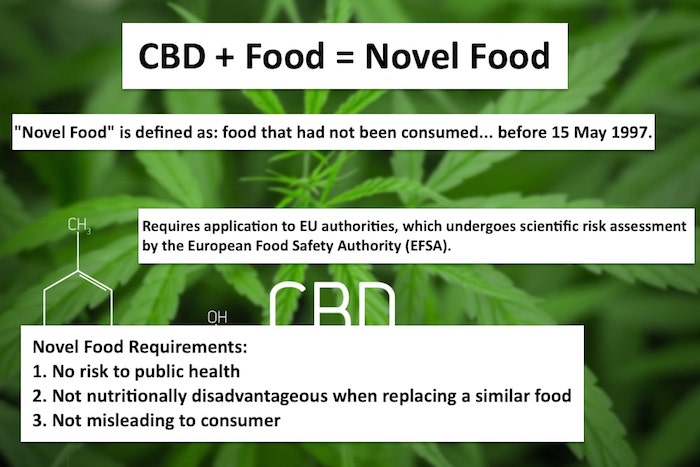 In fact, the status has only recently been updated after a review by the EU authorities (read Update January 2019) below.
"There is a process in progress in the EU to determine whether other parts of the hemp plant (eg, leaves or flowers) and extracts of the plant have been legally marketed in the Community before May 15, 1997. Then Novel Food Catalog will be updated and clarified with respect to to which parts of the hemp plant are not considered covered by the novel food rules."
However, the authorities did not find 'a history of consumption' of cannabinoids before May 15, 1997 and so, according to novel food regulation, a novel food application is required.
The Novel Food Catalogue
Note: In August 2019 we updated our guidance on the limit of THC from "1 mg per pack" to "No THC (recommended limit of detection: 0.01%). The change in advice was made in order to provide a 'best practice' to businesses which takes into account the 'exempt product' laws, the corresponding Home Office guidance and the fact that many labs offering CBD testing services may not reliably detect 1 mg of THC. More information is provided below.
Excluded from novel food regulations are CBD foods where the CBD is derived from cold pressed hemp seed oil or flour.
What does this mean?
Now, it is true that there are 'EU approved varieties' and these must have less than 0.2% THC (unless medicinal). But in the UK these rules relate to the cultivation of hemp for which a license is required; not for the sale of parts of the hemp plant.
The Novel Food Regulation has to be applied directly to all Member States without deviation from its laws. In this way it is unlike a Directive, for example the Tobacco Products Directive, in which States can deviate from the rules to some extent.