There are currently three cannabinoids available on the pharmaceutical market. Dronabinol and nabilone are both synthetic tetrahydrocannabinol (THC) which the FDA has approved for the treatment of chemotherapy-induced nausea and vomiting (CINV) after the failure of a trial of first-line anti-emetics. Both are also FDA-approved to treat anorexia associated with AIDS. Recently, the FDA has also approved a cannabidiol (CBD) product to treat seizures associated with Lennox-Gastaut syndrome and Dravel syndrome in pediatric patients. However, there is no FDA-approved indication for its use as an anti-emetic. This activity reviews the mechanism of action, adverse event profile, toxicity, dosing, pharmacodynamics, and monitoring of cannabinoid antiemetics, pertinent for clinicians and other interprofessional team members to ensure the appropriate utilization of these drugs.
Indications
Adverse effects depend on the cannabinoid administered. The most common adverse effects of formulas containing a THC component are acute intoxication, tachycardia, aboulia, and psychosis. Psychoses manifest most commonly as perceptual alteration but also frequently include panic attacks, anxiety, paranoia, and depression.[4] Individuals using THC-containing cannabinoid products chronically and at a high volume are also at risk of developing cannabis hyperemesis syndrome, which can present as intractable nausea and vomiting.[5] Cannabinoid formulas containing only a CBD component have less potential to cause behavioral side effects, although drowsiness occurs frequently. CBD is a CYP3A4 inhibitor, potentially leading to drug interactions and toxicities in molecules metabolized by the CYP3A4 system.[6] In vitro studies have shown an association between CBD and reduced fertility and alterations of cell viability. Dronabinol has reported adverse effects of gastrointestinal upset, dizziness, paranoia, somnolence, and abnormal thoughts.[7] Nabilone has reported adverse effects that include acute intoxication, ataxia, headache, drowsiness, and deficits in concentration.[8]
Adverse Effects
Monitoring depends on the clinical manifestation of the patient, as there are no streamlined laboratory procedures that can measure cannabinoid serum levels. The monitoring of patients receiving cannabinoids should include checking for tachycardia, orthostasis, and behavioral changes.[9] Use by patients with a history of cannabis use disorder should undergo close scrutiny, as the potential of cannabinoid use disorder relapse in such individuals is high.[10] Precautions in patients with hepatic or renal dysfunction are as yet not investigated. Coadministration with CYP inhibitors may lead to toxicity, and concurrent administration with CYP inducers may result in lower efficacy.[11]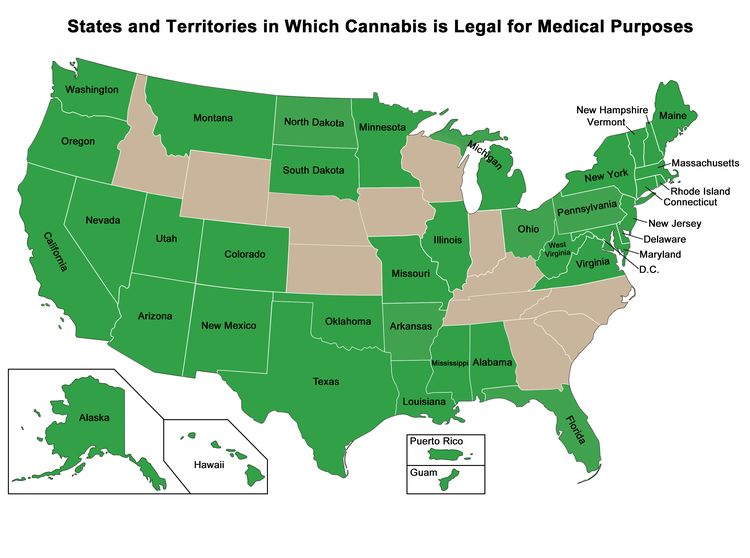 More information about contacting us or receiving help with the Cancer.gov website can be found on our Contact Us for Help page. Questions can also be submitted to Cancer.gov through the website's Email Us.
Most of the patients (n = 30) received Cannabis in the form of oral oil drops, with some of the older children inhaling vaporized Cannabis or combining inhalation with oral oils. Structured interviews with the parents, and their child when appropriate, revealed that 40 participants (80%) reported a high level of general satisfaction with the use of Cannabis with infrequent short-term side effects.[24]
The potential for cytochrome P450 interactions with highly concentrated oil preparations of delta-9-tetrahydrocannabinol and/or cannabidiol is a concern.[8] Few pharmacokinetic interaction studies have been conducted with Cannabis or cannabinoids and conventional cancer therapies. A small study investigated the effect of Cannabis tea in 24 patients who received irinotecan or docetaxel.[9] Administration of the Cannabis tea did not significantly influence exposure to and clearance of either intravenous agent.
This summary will review the role of Cannabis and the cannabinoids in the treatment of people with cancer and disease-related or treatment-related side effects.
Disclaimer
A retrospective study from Israel of 50 pediatric oncology patients who were prescribed medicinal Cannabis over an 8-year period reported that the most common indications include the following:[24]
Clinical trials conducted on medicinal Cannabis are limited. The U.S. Food and Drug Administration (FDA) has not approved the use of Cannabis as a treatment for any medical condition, although both isolated THC and CBD pharmaceuticals are licensed and approved. To conduct clinical drug research with botanical Cannabis in the United States, researchers must file an Investigational New Drug (IND) application with the FDA, obtain a Schedule I license from the U.S. Drug Enforcement Administration, and obtain approval from the National Institute on Drug Abuse.
Some of the reference citations in this summary are accompanied by a level-of-evidence designation. These designations are intended to help readers assess the strength of the evidence supporting the use of specific interventions or approaches. The PDQ Integrative, Alternative, and Complementary Therapies Editorial Board uses a formal evidence ranking system in developing its level-of-evidence designations.
Appetite Stimulation
A small placebo-controlled study of dronabinol in cancer patients with altered chemosensory perception also noted increased quality of sleep and relaxation in THC-treated patients.[49][Level of evidence: 1iC]
Changes to the summaries are made through a consensus process in which Board members evaluate the strength of the evidence in the published articles and determine how the article should be included in the summary.
JAMA Oncol · January 13, 2022
What does that mean?
Long-Term Outcomes in Patients With Severe Aplastic Anemia Treated With Immunosuppression and Eltrombopag
You can find your saved items on your dashboard, in the "saved" tab.
Interview · January 10, 2022
Sign in to PracticeUpdate
HealthDay · January 07, 2022