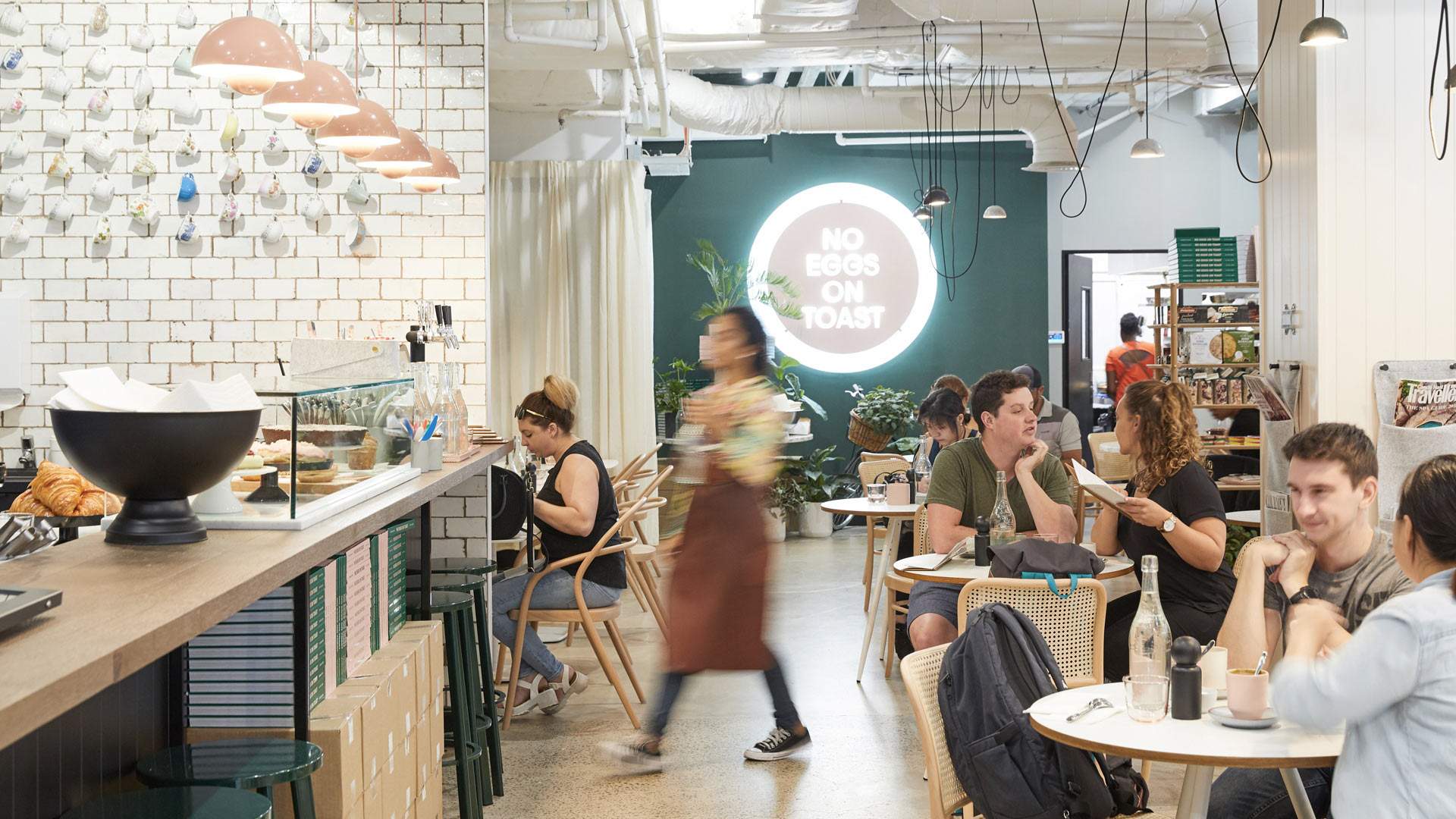 So, for the sake of nutrition, productivity and your tastebuds, we've put together a list of the best spots for a top-notch weekday breakfast. Take a moment to sit down, read the news and digest before you get locked into the daily grind.
Add to Playlist
Open from 7am
While Melbourne's obsession with weekend breakfasts is ingrained in its identity, the first meal of the day is sometimes overlooked during the week in favour of a few more snoozes and a couple of extra minutes in a warm bed. We're all about those zzzs, but it's no excuse for skipping brekkie — especially if you work or study in the city. Morning meal options abound in the CBD, with cafes opening early during the week, ready to ply you with good food and even better coffee to start that day right.
On the weekend, this cafe from the team behind Top Paddock and The Kettle Black usually requires a wait — which is exactly why you should tee up a pre-work visit instead. The huge 160-seat heritage-listed powerhouse on the corner of Little Bourke and Spencer streets is impressive to say the least; a palette of exposed brick and green marble is spread across a multi-level space, which includes an elevated dining area, an open kitchen, and a large mezzanine that holds couches, tables and its own bar. So, it's the perfect place to breakfast alone or even hold a meeting. The brunch menu is served up until 3pm, boasting the likes of avo on toast with a Vegemite emulsion, a spanner crab benedict and even a rendition of the famous Top Paddock ricotta hotcake.
HIGHER GROUND
Start creating a personalised itinerary to your city here — or add to an existing list. Save it, share it and take it with you on your next local adventure.
Happy As Larry is the brainchild of pizza food truck (also named Happy As Larry, FYI) and beautiful café Flower Child. Just like their other cafes, everything is next level 'grammable and our top picks from the menu are the acai bowls, burnt butter eggs benny, and truffled mushrooms on toast. With a coffee to go, obviously.
You may not immediately think of Fratelli Fresh when you hop out of bed in the morning with a hankering for eggs on toast. But that's not all they do, because they have a menu filled with classic breakfast fare, each dish featuring their signature Italian spin. Think eggs Benedict bruschetta or poached eggs, hollandaise, tomato, basil and extra virgin olive oil or avocado crostini with pancetta, tomato and ricotta on sourdough (go on, add a poached egg too). Our personal favourite is the baked truffle eggs, because truffle.
It should come as no surprise, but Klink is the place to head for coffee if you have very particular tastes, because they do it all. No really, V60 pour over, cold drip and espresso are all on the cards, utilising their staggering range of single origin blends, boutique beans and their old faithful; The Golden Cobra. This is one for people who need breakfast on the go since they also serve a small range of classic toast combos. Our faves are the smoked salmon and cream cheese on sourdough, and the ricotta, honey and cinnamon.
Reservoir Street
An institution on the Sydney café scene, Pablo & Rusty's is a foolproof option for your daily coffee fix, regardless of whether you prefer espresso or filter (they do both). The space is all exposed wooden beams, hanging plants and high ceilings, while the menu is filled with hearty winter warmers and filling café favourites. Order the XO mushrooms with carrot & konbu fondant, charred lettuce, poached eggs and crispy shallot on toast. If you don't, we will.
Airy and light-filled are words that come to mind when strolling into Cross Eatery on Clarence Street. It's a welcome respite from the bustling CBD and the aroma of freshly brewed coffees only sweeten the deal. This place is serving up one of the best breakfasts in the CBD, and the menu has been thoughtfully created with sustainability in mind, serving things like 63˚ eggs with single origin olive oil, black salt and sourdough dippers and pearl barley and oat porridge with spiced pears poached in red wine and oat crumb.
As one of Sydney's most trusted coffee suppliers, visiting the Single O café is like going straight to the source, since they are one of Sydney's biggest and best coffee dealers. Their beans are on display in store and treated with the respect and awe they deserve, set in recessed porthole-style shelving along the main wall. And while coffee is most certainly the main event here, the food doesn't disappoint, with their brekkie box and next level toasties. Toasties are always a good idea, but when they involve things like provolone, truffles salami, and pickled chilli, they're even better (obvs).
Klink Handmade Espresso
Looking for foodie inspo in the inner west? Check this out.
A Thai-inspired café by the same folks behind Chat Thai, Boon is a café and South East Asian supermarket thrown into one. Their selection of Thai drinks is staggering, with house-made iced tisanes, traditional Thai coffee and matcha as well as classic Single Origin blends for the coffee addicted among us. In the way of food, there are sweet options like fig and walnut sourdough with mascarpone and house jam and for savoury lovers, there is crab congee, the boon omelette with rice and jalapeno sriracha sauce.